THE "HOLY" CRUSADES

"murder, rape, cannibalism,
incest, torture, and bloodshed -
All in The Name of "Christ"

Does the end Justify the Means ?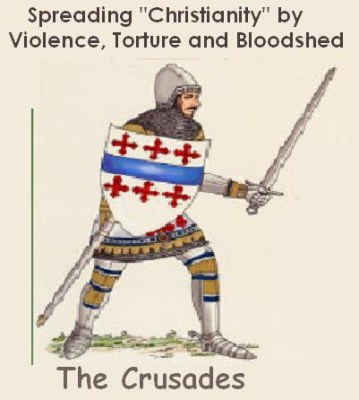 Some religions of Christendom praise the "Holy" Crusades
as a wonderful means by which "Christianity" was spread
around the world. The Crusades were known for the
extreme violence and blood shed that "Forcefully" gained
converts to the Newly adoped Church of Rome.
But what kind of Faith was spread ? Would Christ have
approved of this wholesale slaughter in his Name ?
How completely opposite was this method of conversion
than that of Christ and the Apostles.

Did the end Justify the Means ?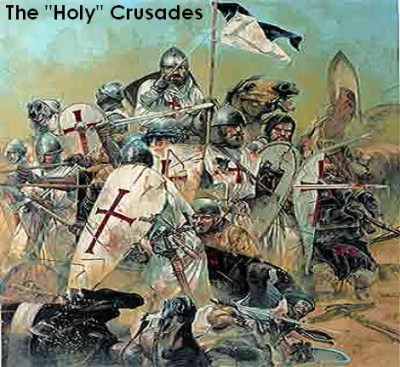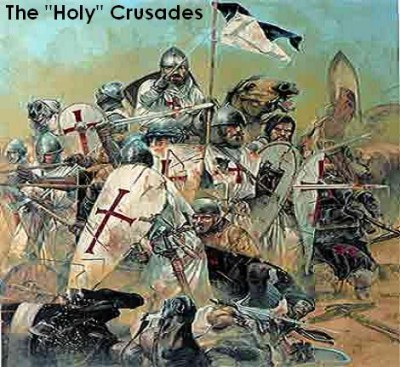 The Clergy of "Apostate" Christendom - Sent and Empowered
the Crusaders to Fight, Murder, and Plunder - under the Sign
of the Cross -

"The name crusade (from Latin, "cross",
the emblem of the Crusaders) was also applied,
especially in the 13th century, to wars
against pagan peoples, Christian heretics,
and political foes of the papacy."
--History of Byzantium
Crusades - Hypocrisy of Western Nations


"A crusade was originally meant to be
a war where all leaders and men fought
under the banner of the church. The "call"
for a crusade was made by the Pope."
--The Crusades - An Overview
"The Shield and Sword"
Newsletter Archive

"The men who fought these wars under the
church's banner would take a vow before
the Pope or his priests and they would
receive a cross to wear. Some called it
"taking the cross". It also bestowed upon
them a few "indulgences" or temporal
privileges, such as not having to obey
civil laws, as well as their lands,
property and persons being safe from
seizure. They only had to obey the laws
of the church."
--The Crusades - An Overview
"The Shield and Sword"
Newsletter Archive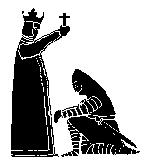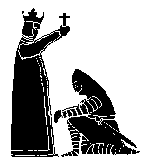 "The men who fought these wars under the
church's banner would take a vow before
the Pope or his priests and they would
receive a cross to wear. Some called it
"taking the cross".
--The Crusades - An Overview
"The Shield and Sword"
Newsletter Archive


"The Crusaders were also granted a plenary
indulgence from sin by the Pope; and at the
voice of their pastor, the robber, the incendiary,
the homicide, arose by thousands to redeem
their souls by repeating on the infidels
the same deeds which they had exercised
against their Christian brethren. They also
enjoyed temporal privileges."
--Crimes of Christianity
Chapter IX - The Crusades
G W Foote & J M Wheeler

"During the time that a crusader bore the cross,
he was free from suit for his debts, and the
interest on them was entirely abolished;
he was exempted from taxes, and placed under
the protection of the Church, so that he could
not be pleaded in any civil court."
--Crimes of Christianity
Chapter IX - The Crusades
G W Foote & J M Wheeler

"The First Crusade (1095 - 1101)
It was decided that Pope Urban II should
call for a crusade. Each man who took the vow
received a red cloth cross to wear on his shoulder.
Four great armies as well as many small groups
went forth, ill–equipped but ready to fight for God,
and they would kill Jews, pillage and plunder
along the way."
--The Crusades - An Overview
"The Shield and Sword"
Newsletter Archive

"Pope Eugnius IV called for a crusade,
at Christmas time in the year 1145."
--Medieval Sourcebook:
Odo of Deuil:
The Crusade of Louis VII
"The Jews were the first victims of
the Crusaders plunder. The Crusaders -
Considering themselves as enlisted in
the service of Christ, concluded that
they were fully warranted to take vengeance
on his murderers, and they, therefore,
put to the sword without mercy such as
refused to be baptized, seizing their
property without the smallest regard
to the rights of justice. In Bavaria
alone twelve thousand Jews were massacred,
and many thousands more in the other
provinces of Germany."
--The History of the Christian Church
By William Jones
First Edition 1812 - London
"These pious robbers, having tasted the
sweets of plunder, and being subject to no
military regulations, began of course to
pillage without distinction, till the
inhabitants of the countries through which
they passed rose in defense of themselves
and their families."
--The History of the Christian Church
By William Jones
First Edition 1812 - London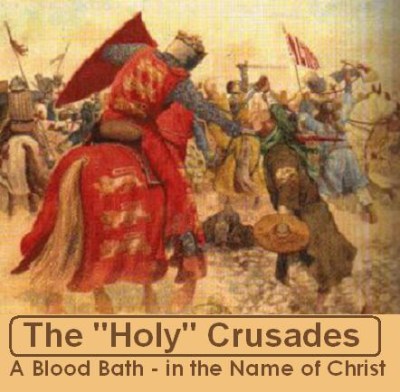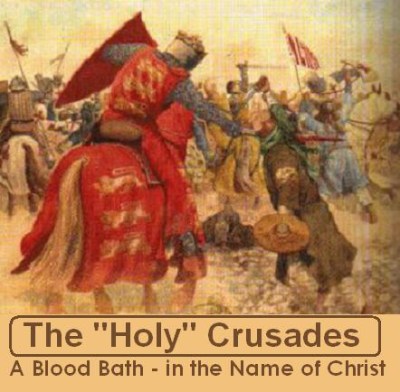 "The Crusades began formally on Tuesday,
November 27, 1095, in a field just outside
the walls of the French city of Clermont-Ferrand.
On that day Pope Urban II preached a sermon
to crowds of laypeople and clergy attending
a church council at Clermont. In his sermon,
the pope outlined a plan for a Crusade and
called on his listeners to join its ranks."
--History of Byzantium
Crusades -Hypocrisy of Western Nations

"THE CRUSADES - the most signal and most
durable monument of human folly that has yet
appeared in any age or nation."
--[Robertson's History of Charles V.
vol. 1. Appendix, Note 13.]
"The Crusades....this subject forms a prominent
feature in the history of the Antichristian
APOSTASY..."
--History of England,
volume 1, chapter 5

"During the Crusades - The brave were not
protected by arms, nor the timid by submission;
neither age nor sex were spared; infants
perished by the same sword that pierced
the supplicating mother. The streets of
Jerusalem were covered with heaps of slain;
and the shrieks of agony or despair resounded
from every house, when these triumphant warriors,
glutted with slaughter, threw aside their arms,
still streaming with blood, and advanced,
with naked feet and bended knees to the
sepulcher of the Prince of Peace! They then
sung anthems to that Redeemer who had purchased
their salvation by his death, while deaf to the
cries of distress from their fellow-creatures."
--The History of the Christian Church
By William Jones
First Edition 1812 - London

"The fourth Crusade issued from England,
France, Flanders and Lorraine. Mills calls
them "another herd of wild and desperate savages."
Their leaders were a goat and a goose, who were
thought to be inspired by the Holy Ghost.
They took to murdering the Jews, a crime
which gratified at once their avarice and
their fanaticism. Cologne was the first city
they stained with blood. Thousands of Jews
were massacred and pillaged in the towns
on the banks of the Rhine and Moselle.
Seven hundred were slaughtered at Mayence,
The infernal multitude, as Mills calls them,
"hurried on to the south in their usual
career of carnage and rapine;" They pursued
them with such slaughter that the waters of
the Danube were for some days red with their
blood."
--Crimes of Christianity
Chapter IX - The Crusades
G W Foote & J M Wheeler

"Carrion was openly dressed," says Mills,
"and human flesh was eaten in secret.
Cannibalism was carried to a great extent
by the lowest of the low and the camp-followers
made a virtue of it. They liked nothing so well
to eat as the roasted flesh of their enemies."
--Crimes of Christianity
Chapter IX - The Crusades
G W Foote & J M Wheeler


"The papal chair was then filled by
Pope Clement III, who ordered a Crusade
to be preached throughout all the countries
of Christendom.
--The History of the Christian Church
By William Jones
First Edition 1812 - London

"Crusaders - their more appropriate title
would have been that of wolves; for, wherever
they came, they robbed and pillaged without
either regard to justice or mercy..."
--The History of the Christian Church
By William Jones
First Edition 1812 - London

"Persuaded that heretics, or those who
dissented from the Roman church, deserved
the punishment of death, he favored the
tribunal of the Inquisition; and the same
turn of thinking led him to ascribe merit
to a war against Infidels - the Crusades."
--The History of the Christian Church
By William Jones
First Edition 1812 - London

"THE Crusades form one of the maddest
episodes in history. Christianity hurled
itself....in expedition after expedition
for nearly three centuries. Millions perished
in battle, hunger, or disease; and every
atrocity the imagination can conceive
disgraced the warriors of the Cross."
--Crimes of Christianity
Chapter IX - The Crusades
G W Foote & J M Wheeler

"Religious fanaticism gave birth to the
Crusades. Modern apologists of Christianity
have assigned other causes...But these are
the excuses of a later age and a more timid
faith. Hallam remarks that the Christian cry,
"It is the will of God," proves the motive
with which the Crusades were undertaken."
--Crimes of Christianity
Chapter IX - The Crusades
G W Foote & J M Wheeler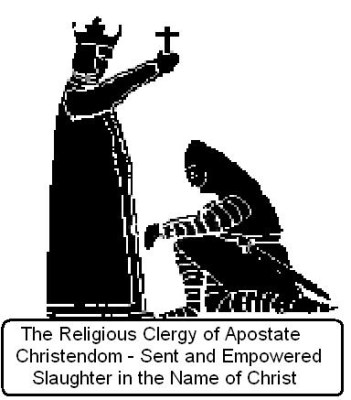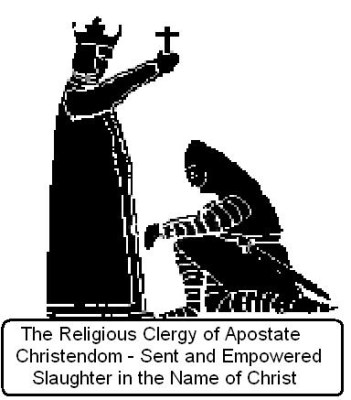 "The men who fought these wars under the
church's banner would take a vow before
the Pope or his priests and they would
receive a cross to wear. Some called it
"taking the cross". It also bestowed upon
them a few "indulgences" or temporal
privileges, such as not having to obey
civil laws, as well as their lands,
property and persons being safe from
seizure. Tey only had to obey the laws
of the church."
--The Crusades - An Overview
"The Shield and Sword"
Newsletter Archive

The Crusaders - "Thence they marched to
Constantinople...and the emperor supplied them
with provisions, and as soon as they recovered
strength they repaid his generosity by deeds of
flagitiousness on his people. Palaces and churches
were plundered to afford them means of intoxication
and excess. Michaud says that they committed
crimes which made nature shudder. They killed
children at the breast, scattered their limbs
in the air, and carried their ravages to the
very walls of the city of Nice."
--Crimes of Christianity
Chapter IX - The Crusades
G W Foote & J M Wheeler

"The Third Crusade - a devotion to brutal
license of rapine, prostitution and drunkenness.
According to Michaud, they gave themselves up
to intemperance; in tumultuous scenes of
debauchery, and pillage, violation, and murder
were everywhere left as the traces of their passage.
At Mersburgh they committed horrible outrages.
On a trifling quarrel they impaled a young
Hungarian in the market place."
--Crimes of Christianity
Chapter IX - The Crusades
G W Foote & J M Wheeler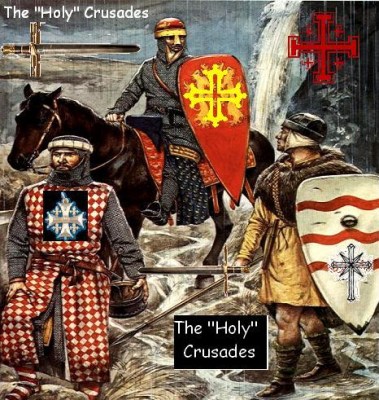 "The Crusaders - The army of the cross,
as they called themselves, next fell upon
Constantinople. They entered the city
without much resistance, putting every one
to the sword who opposed them, and gave
themselves up to all the excesses of avarice
and fury. The booty alone, was valued at
four hundred thousand marks of silver:
the very churches were pillaged. The church
of St. Sophia, after having robbed the altar
they drenched the city in blood! Thus was this
noble city, in that age the most flourishing
in the Christian world, for the first time
taken and sacked by Christians. One consequence
of this was, that the pope gained, for a time,
the whole Eastern church; a huge acquisition."
--The History of the Christian Church
By William Jones
First Edition 1812 - London

"During the Crusades -The moral fabric of Europe,
says Mills, was convulsed; the relations and
charities of life were broken; society appeared
to be dissolved."
--Crimes of Christianity
Chapter IX - The Crusades
G W Foote & J M Wheeler
"Peter the Hermit led the second crusade
of forty thousand men, women and children,
of all nations and languages. Arriving at
Malleville they avenged their precursors
by assaulting the town, slaying seven thousand
of the inhabitants, and abandoning themselves
to "every species of grossness and libertinism."
According to Mills "virgin modesty was no
protection," and "conjugal virtue no safeguard"
against these sanctified soldiers of the cross."
--Crimes of Christianity
Chapter IX - The Crusades
G W Foote & J M Wheeler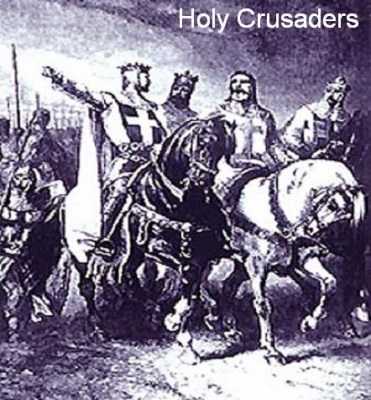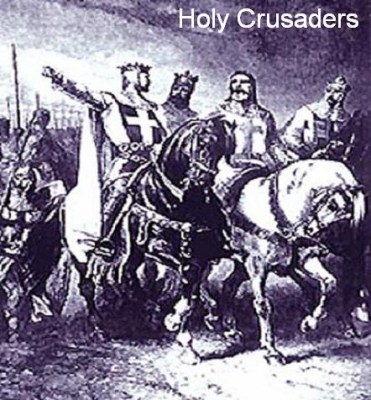 "When the leaders of the crusading army
arrived in Europe, the pope wrote a severe
letter to the emperor, accusing him of having
sacrificed the interests of Christianity
by so long delaying the performance of his vow,
and threatening him with immediate excommunication,
if he did not instantly depart with an army
into Asia."
--The History of the Christian Church
By William Jones
First Edition 1812 - London

"Religious fanaticism was the chief motive
of this Crusade, but it was mixed with others.
The east was thought to abound in riches;
the wealth gleamed on the imagination;
and sensuality was allured by the fabulous
flavor of oriental wines and the magical
beauty of Grecian women. Avarice, ambition,
and lust, co-operated with faith."
--Crimes of Christianity
Chapter IX - The Crusades
G W Foote & J M Wheeler

Among the early French poems on the Crusades
is one entitled 'The Leaguer of Antioch',
of which Von Sybel gives an abbreviated
translation about them eating the human flesh
of those they had slain:
"More than ten thousand,
where in heaps the Paynim lay about.
They hewed the corpses limb from limb,
and disembowelled clean,
And there was sodden meat and roast,
to blunt their hunger keen:
Right savory fare it seemed there;
they smacked their lips and spake,--
Farewell to fasts: a daintier meal
than this who asks to make?
'Tis sweeter far than porker's flesh,
or bacon seethed in grease.
Let's make good cheer, and feast us here,
till life and hunger cease.'"
--Crimes of Christianity
Chapter IX - The Crusades
G W Foote & J M Wheeler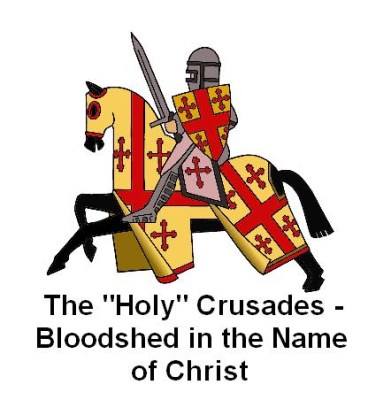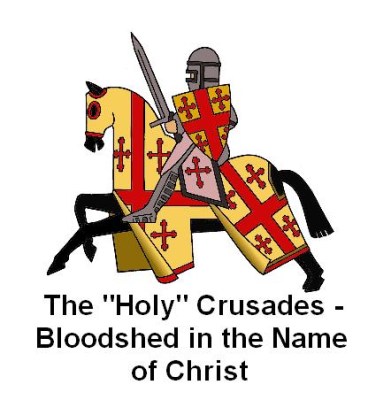 "In Jerusalem, walls and fortifications were
being torn down to prevent the Christians from
using them for defense if they should reach the
city and take it...Fearing a repeat of the
bloodbath during the First Crusade...."
--The Crusades - An Overview
"The Shield and Sword"
Newsletter Archive
Concerning the Crusaders it was said -
"the rudeness and ferocity of the soldiers
of Christ....the zeal of the Christian sects
was embittered by hatred and revenge;
and in the kingdom of a suffering Messiah,
who had pardoned his enemies, they aspired
to command and persecute their spiritual
brethren."
--Crimes of Christianity
Chapter IX - The Crusades
G W Foote & J M Wheeler


"Such was the conquest of Jerusalem
by the bloody warriors of the cross.
There is no blacker chapter in the
world's history; and justice condemns
the expedition as wicked and insane,
and truth brands alike the soldiers
and their religious chiefs as the vilest
horde of pious savages that ever polluted
the earth."
--Crimes of Christianity
Chapter IX - The Crusades
G W Foote & J M Wheeler

"The Third Crusade - Like other Crusades,
this one was marked by the grossest debauchery.
They indulged in the worst excesses. Three hundred
women arrived from Cyprus and the Greek islands,
and prostituted themselves in the Christian camp,
while the Saracens beheld the spectacle with
disgust. Michaud sums up the depravity of the
soldiers of the cross by saying that all the
vices of Europe and Asia had met in one spot."
--Crimes of Christianity
Chapter IX - The Crusades
G W Foote & J M Wheeler
"Constantinople was the capital city of a
Christian empire, but the Crusaders sacked it
as though it were inhabited by Saracens.
The Crusaders put to the sword every Greek
they met with on entering the city. "It was
a horrible spectacle," says old Villehardouin.
--Crimes of Christianity
Chapter IX - The Crusades
G W Foote & J M Wheeler
"The scenes of female violation," says Mills,
"need not be described." According to Gibbon,
"the deeds of darkness, fornication, adultery,
and incest, were perpetrated in open day;
and noble matrons and holy nuns were polluted
by the grooms and peasants of the Catholic camp.
What a spectacle! How proudly the bannered cross
must have floated over the scene! "
--Crimes of Christianity
Chapter IX - The Crusades
G W Foote & J M Wheeler


"Europeans, by this time, were only interested
in Crusades that served their own purposes.
Charles tried to take advantage of the vacancy
of the Holy See to attack Constantinople but was
not able to, due to the negotiations of the Pope
with Michael Palaeologus of Constantinople for
religious reunion."
--The Crusades - An Overview
"The Shield and Sword"
Newsletter Archive

"Pope Innocent IV, tried to call another crusade
but to no avail since no leader of France would
step forward. Pope Innocent IV's problems with
Frederick II were another reason for the failure."
--The Crusades - An Overview
"The Shield and Sword"
Newsletter Archive

"The Sixth Crusade (1228 – 1229 AD)
Frederick II, who was supposed to lead the
great crusade, kept asking the Pope for delays.
In 1227, after Gregory IX became pope, he called
Frederick to do his duty and set off for Palestine.
Frederick II soon turned back however and
Pope Gregory IX, fed up, ex–communicated him."
--The Crusades - An Overview
"The Shield and Sword"
Newsletter Archive
"Nearly a million soldiers of Christ,
of all ages and conditions, and of both sexes,
had perished in less than two years;
to say nothing of those who fell victims
to their cruelty and fanaticism. So many
crimes and so much misery have seldom been
accumulated in so short a space as in the
three years of the first expedition."
--Crimes of Christianity
Chapter IX - The Crusades
G W Foote & J M Wheeler

"in the short space of a month,
the character of the Christian soldiers
before Jerusalem had become as immoral as
it had been in the long and painful siege
of Antioch. After a procession round Jerusalem,
in the fashion of the ancient circuit of Jericho,
led by barefooted priests carrying crosses
and shouting "Deus id vult," a fresh assault
was made on the city, which was at length
successfully stormed on Good Friday. They erected
their banners on the walls of Jerusalem.
Instead of making the "holy hour" an occasion
for mercy, the Crusaders acted like wild beasts,
and turned the city of the sepulchre of Christ
into a hell of rapine, murder and lust.
The Christians abused the victory by filling
Jerusalem with blood and carnage."
--Crimes of Christianity
Chapter IX - The Crusades
G W Foote & J M Wheeler

"A bloody sacrifice was offered by the crusaders
to the God of the Christians: neither age nor sex
could mollify their implacable rage. They indulged
themselves three days in a promiscuous massacre;
and the infection of the dead bodies produced
an epidemical disease. Even the harmless Jews
had been burnt in their synagogue."
--Crimes of Christianity
Chapter IX - The Crusades
G W Foote & J M Wheeler
"The Saracens were massacred in the streets
and in the houses by the crusaders. Nothing was
heard but the groans and cries of death;
the victors trod over heaps of corpses
in pursuing those who vainly attempted
to escape. Raymond d'Argiles, who was an
eye-witness, says that under the portico
of the mosque the blood was knee-deep
and reached the horses' bridles."
--Crimes of Christianity
Chapter IX - The Crusades
G W Foote & J M Wheeler
"Such was the carnage of Omar, that the
mutilated carcasses were hurried by the
torrents of blood into the court;
dissevered arms and hands floated into
the current that carried them into contact
with bodies to which they had not belonged.
Ten thousand people were murdered in this
sanctuary. It was not only the lacerated
and headless trunks which shocked the sight,
but the figures of the victors themselves
reeking with the blood of their slaughtered
enemies. No place of refuge remained to the
vanquished, so indiscriminately did the
insatiable fanaticism of the conquerors
disregard alike supplication and resistance.
Some were slain, others were thrown from
the tops of the churches and of the citadel."
--Crimes of Christianity
Chapter IX - The Crusades
G W Foote & J M Wheeler

"After paying their devotion to Christ,
and worshipping on the various spots that
were hallowed by his presence, the Crusaders
resumed the murder of his enemies. Three hundred
prisoners, to whom Tancred had promised safety,
were perfidiously massacred. Neither the tears
of women, nor the cries of little children,
nor the sight of the place where Jesus Christ
forgave his executioners, could mollify the
victor's passion"
--Crimes of Christianity
Chapter IX - The Crusades
G W Foote & J M Wheeler

"The subjugated people were therefore dragged
into the public places, and slain as victims.
Women with children at the breast, girls and boys,
all were slaughtered. The squares, the streets,
and even the uninhabited places of Jerusalem,
again were strewed with the dead bodies of men
and women, and the mangled limbs of children,
No heart melted into compassion or expanded
into benevolence."
--Crimes of Christianity
Chapter IX - The Crusades
G W Foote & J M Wheeler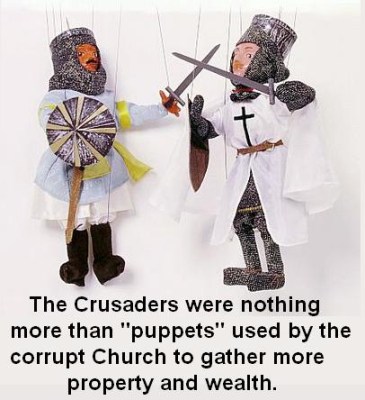 "Crusades were also the result of ambitious
popes who sought to extend their political
and religious power. Crusading armies were,
in a sense, the military arm of papal policy."
--History of Byzantium
Crusades - Hypocrisy of Western Nations

"historians have pointed to the...fact that
the Crusades offered an outlet for the
ambitions of land-hungry knights and noblemen.
The expeditions are also seen as offering rich
commercial opportunities known as "plundering"
to the merchants of the growing cities of Italy,
particularly the cities of Rome, Genoa, Pisa,
and Venice."
--History of Byzantium
Crusades - Hypocrisy of Western Nations

"After the end of the Fourth Crusade it became
apparent to many that the soldiers had just
plundered goods from abroad rather than gain
any long term success. Many Christians had
never even reached the Holy Land."
--The Crusades - An Overview
"The Shield and Sword"
Newsletter Archive

"Amid the pursuits of piety and murder,
the Crusaders did not neglect to enrich themselves.
Each soldier became the owner of any house
at whose portal he set his buckler. The treasures
of the mosques were devoted to the Christian Church."
--Crimes of Christianity
Chapter IX - The Crusades
G W Foote & J M Wheeler




"Carrion was openly dressed," says Mills,
and human flesh was eaten in secret.
Cannibalism was carried to a great extent
by the lowest of the low and the camp-followers
made a virtue of it. They liked nothing so well
to eat as the roasted flesh of their enemies."
--Crimes of Christianity
Chapter IX - The Crusades
G W Foote & J M Wheeler

"Gibbon also says of the Crusaders
that "in the dire necessity of famine,
they sometimes roasted and devoured
the flesh of their infant or adult captives.
They slew some Turkish prisoners and roasted
them publicly. Cannibalism was also resorted
to at the siege of Marra. One chronicler dryly
says there is nothing surprising in the matter,
and wonders that they sometimes ate dogs in
preference to Saracens."
--Crimes of Christianity
Chapter IX - The Crusades
G W Foote & J M Wheeler

"Mutilation of the dead was indulged in as a sport
by the crusaders. The heads of two thousand Turks,
who fell in a sortie from Antioch, were cut off;
some were exhibited as trophies, others were fixed
on stakes round the camp, and others shot into
the town. On another occasion they dragged their
victims corpses from their sepulchres, and exposed
fifteen hundred heads to the weeping Turks."
--Crimes of Christianity
Chapter IX - The Crusades
G W Foote & J M Wheeler

"Fighting for Christ did not keep the Crusaders
chaste. During the siege of Antioch they gave the
rein to their passions, and seldom does the history
of profane wars display such scenes of intemperance
and prostitution as did the Crusades. A neighborhood
once devoted to the worship of Venus and Adonis,
spread license and corruption among the soldiers
of Christ."
--Crimes of Christianity
Chapter IX - The Crusades
G W Foote & J M Wheeler

"All the vices of the infamous Babylon
prevailed among the tents of the Crusaders.
Voluptuousness formed a hideous union with
impure love, an unbounded passion for play,
with all the excesses of debauchery mingled
with the images of death."
--Crimes of Christianity
Chapter IX - The Crusades
G W Foote & J M Wheeler

"The dignity of age, the helplessness of youth,
and the beauty of the weaker sex, were disregarded
by the crusading savages and their cruelty.
The number massacred on this night was at least
ten thousand."
--Crimes of Christianity
Chapter IX - The Crusades
G W Foote & J M Wheeler

"The passion for plunder had been stilled
by the thirst for blood: When, however,
every species of habitation, from the marble
palace to the meanest hovel, had been converted
into a scene of slaughter, when the narrow
streets and the spacious squares were all
alike disfigured with human gore, and crowded
with mangled carcasses, then the assassins
turned robbers, and became as mercenary as
they had been merciless."
--Crimes of Christianity
Chapter IX - The Crusades
G W Foote & J M Wheeler

"The Crusaders ate, drank, and indulged
in the wildest debauchery. Unbounded license
was given to every passion. They slaughtered
all the inhabitants at Marra, and devoured their
flesh; and it is even said that human flesh
was publicly exposed for sale in the Christian
camp. The streets ran with blood until their
ferocity was tired."
--Crimes of Christianity
Chapter IX - The Crusades
G W Foote & J M Wheeler
"Fighting and backstabbing went on for another
21 years. So it would be truthful to say that
while there were 8 called crusades, there was
in reality only one long crusade lasting almost
two hundred years from 1095 to 1291."
--The Crusades - An Overview
"The Shield and Sword"
Newsletter Archive

"Besides the incalculable evils they directly
caused, the Crusades led to the slaughter of
the Northern innocents, the massacre of the
Albigenses, and the other wholesale cruelties
with which the Papacy afterwards desolated Europe."
--Crimes of Christianity
Chapter IX - The Crusades
G W Foote & J M Wheeler

"Enough, and more than enough, has been said
to convince the reader of the deplorable state
of darkness and superstition which reigned
throughout Europe, to say nothing of Asia
and Africa, during this period. The Crusades
being conducted under the immediate protection
of the Roman church....the Venetians and Genoese,
thereby acquired immense sums of money, and at
the same time opened to themselves a new source
of wealth, by importing into Europe the plundered
commodities of Asia. The cities of Italy grew rich
and powerful, and obtained extensive privileges."
-- Hume's History of England,
vol. 1, ch. 5. Robertson's Charles V.
vol. 1, APPENDIX.
Russel's History of Modern Europe,
vol. 1, LETT. 25, 27, 30, 31, 32, 34.]